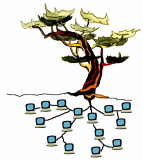 With good roots...your business will flourish
---
Sagebrush Networks would be happy to provide a free consultation. Call or email using the address at top of the page to arrange a time.
Who We Are
Sagebrush Networks is a small business that understands the difficulties and uncertainty you face when you take that step of networking your office.
Security is part of every service offered
Confidentiality of your business processes is a given
Economy doesn't mean sacrificing quality with our Linux®-based networking solutions
Future growth is part of every network design
What We Do
Sagebrush Networks can design a network for your company with the big business features you want, but on your small business budget.
Small is no problem, the network design can provide for growth in steps that don't bust the budget
Control of who sees what on the network is designed to your specification
Administration of the network and servers can be performed remotely to save you money
Professional Affiliations
References
Volunteer Management
PSE Paraprofessional Listserv
Mid-Columbia Koi Club Listserv and web site